上海勤仕金属粉末有限公司,是有色金属粉末专业生产厂家,是中国钢协会粉末冶金协会会员单位之一,企
业有从事金属粉末生产的专家和各类工程技术人员,能根据市场需求生产和开发粉末冶金和金刚石制品等到行业所需要量的各种金属粉末。1981年开始建厂投产,现有职工70多名,2001年度工业总产值:4500万元,实际销售额4000万元,2001年金属粉末的生产量800吨,粉末产品有锡粉、钴粉、镍粉、铅粉、铜粉、铜锡合金粉、锰粉、钼粉、银粉、铁粉、硅粉、铝粉、钨粉、碳化钨粉等。生产的金属粉末畅销全国各地,并深得广大用户的好评。
  企业领导深知产品质量的重要性,为更有效的监控产品质量,投入巨资配备一流的理化分析室。大大提高了监控检测手段,产品生产加工有一条由电脑监控全过程的,完整实用的生产流水线设施,满足生产需要。
  企业由美国IMS公司鉴定并通过了ISO9001:2000质量体系的认证。
  为了与国际接轨,企业新投建两条气流分极超细钴粉和超细镍粉的生产流水线,于2002年1月正式投产。生产超细粉末的粒度达到600目-1800目。超细粉末增加了冶金制品的粘结性、致密性,从而使产品更具抗磨性能和抗弯强度。
  Shanghai QinShi company is specialized in nonferrous metal powder and is one of the Chinese Steel Association for Powder Metallurgy.There are many experts on producing metal powder as well as all kinds of technical personnel,making it possible for the enterprise to produce and develop a variety of metal powders in the industries of powder metallurgy and diamond products to meet the needs of the market .Putting into production in 1981,the factory has the stall of 70.Besides,in 2001,the total industrial output value is as high as RMB 45 million and the total sales is about RMB 4 million ,In the same year,the total output of metal powders is more than 800 tonts,including the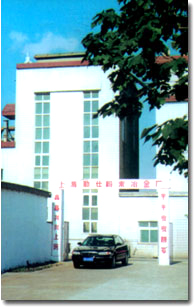 powders of Tin,Cobalt,Nickel,Lead,Copper,Copper-Tin Alloy.Manganese,Molybdenum,Silver,Iron,Silicon,Aluminium,Tugsten and its Tungsten carbide.The metal powders produced sell well on the markets all over the country,enjoying immense popular support.
  The leaders of the enterporise are well aware of the important of the quality of the products. In order to control the quality more effectively,huge capital has been invested in equipping the enterprise with a first class physics and chemistry analytical base,which has greatly improved the means of keeping on watch.Producing and processing are going on with the help of a computer -controlled,complete and practical assembly line,meeting the needs of production.
  Appraised by IMS Company in U.S.A the enterprise has passed ISO9001 and the authentication of the 2000's quality system.
  To meet the changing situation in the world,the enterprise has newly set up tow assembly lines producing super-fine powders of cobalt and nickel by classifying airflows.which formally put into production in january,2002. The size of the super-fine powder is as fine as 600 to 1800 mu,greatly improving the wearing properties and bending atrength of metal products.